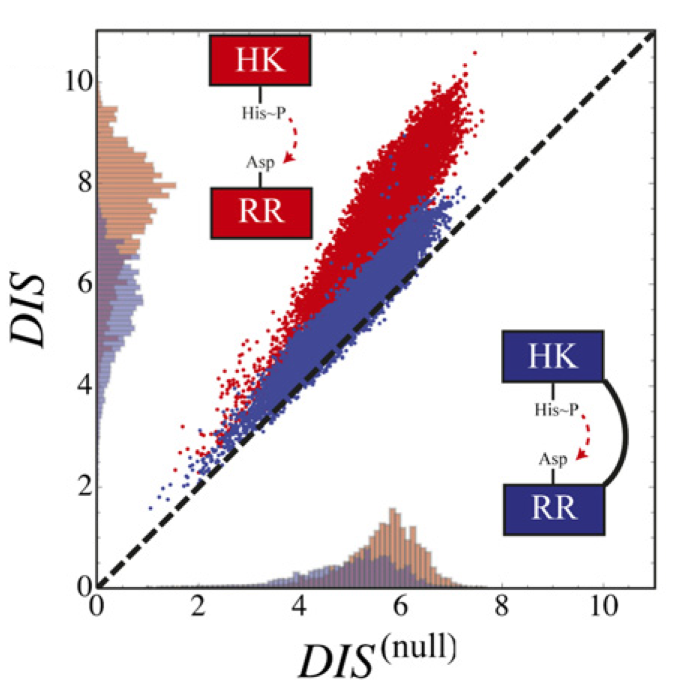 One goal of our lab is to use amino acid coevolutionary information to better understand how bacterial two-component signaling (TCS) proteins preferentially interact with their correct partners and how this specificity is encoded in the sequence of the molecular interface. This knowledge can lead us to engineer novel molecular interactions.
Ryan R. Cheng, Olle Nordesjö, Ryan L. Hayes, Herbert Levine, Samuel C. Flores, José N. Onuchic, Faruck Morcos. Connecting the sequence-space of bacterial signaling proteins to phenotypes using coevolutionary landscapes Molecular Biology and Evolution. 33 (12): 3054-3064. 2016
Joseph S. Boyd, Ryan R. Cheng, Mark L. Paddock, Cigdem Sancar, Faruck Morcos, Susan S. Golden A Combined Computational and Genetic Approach Uncovers Network Interactions of the Cyanobacterial Circadian Clock J. Bacteriol. September 2016 198:18 2439-2447
Peer-reviewed Conference Articles
Faruck Morcos, Charles Lamanna, Nitesh V. Chawla and Jesus Izaguirre. Determination of Specificity Residues in Two Component Systems using Graphlets. International Conference on Bioinformatics and Computational Biology (BIOCOMP). July, 2009.